Tag Archives:
Gordon Lafer
"Dismantling the public schools is all about control." Lynn Parramore
In "The Corporate Plan to Groom U.S. Kids for Servitude by Wiping Out Public Schools," Ms. Parramore explains the strategy the One Percent is using to produce a dual economy (haves and have-nots) and how the process of dismantling the public schools aides this agenda. Based on research from Gordon Lafer and Peter Temin, the article is a must-read for all citizens — before it's too late to reverse "the new system."
"Lafer explains that in the new system, the children of the wealthy will be taught a broad, rich curriculum in small classes led by experienced teachers. The kind of thing everybody wants for kids. But the majority of America's children will be consigned to a narrow curriculum delivered in large classes by inexperienced staff —or through digital platforms with no teachers at all."
This new digital delivery system is being called "Personalized Learning." It's also sold as Competency-Based, Mastery-Based, Proficiency-Based, Outcome-Based, and "Standards-Based" education. To be clear, none of this is proven education reform. That alone is reason enough to stop dismantling the public schools under the guise of reforms or "modernization," which is code for privatization.
Standards-based reform policies, like No Child Left Behind, have already narrowed the curriculum. Decades of focusing on outcomes without the necessary inputs has left us with large classes, driven out experienced teachers, and put alternative certifications in federal and state laws to solve a problem created by lawmakers. None of this is theory or conspiracy. It's the reality produced by our politically motivated policies.
And this is where we are:
"It remains to be seen if the rights of the many can triumph over the selfishness of the few, and whether economic servitude will be the fate of the children of the wealthiest and most powerful country the world has ever seen." Parramore
Here is part of the story behind the dismantling of public schools:
"After five years of research and the publication of The One Percent Solution, Lafer concluded that by lobbying to make changes like increasing class sizes, pushing for online instruction, lowering accreditation requirements for teachers, replacing public schools with privately-run charters, getting rid of publicly elected school boards and a host of other tactics, Big Business was aiming to dismantle public education."
Dismantling the public schools required a coordinated effort.
A "host of other tactics" included using the American Recovery and Reinvestment Act money, instilling longitudinal data systems, coercing use of the Common Core Curriculum, giving priority to workforce data "interoperability," and anchoring in place the false assumptions of No Child Left Behind in its replacement — the Every Student Succeeds Act (ESSA).
We were told that American Recovery and Reinvestment Act money would be used to restore operating funds for schools due to state budget cuts during The Great Recession.

Did states recover and reinvest in education? According to this 2014 report, 30 out of the 47 state budgets analyzed DID NOT.
"The lack in funding is hurting not just students, but also the economy."
While ordinary Americans were struggling, so-called "reform" groups worked to put their "SMART OPTIONS" education agenda in place using Recovery Act funds. They controlled the setting of priorities.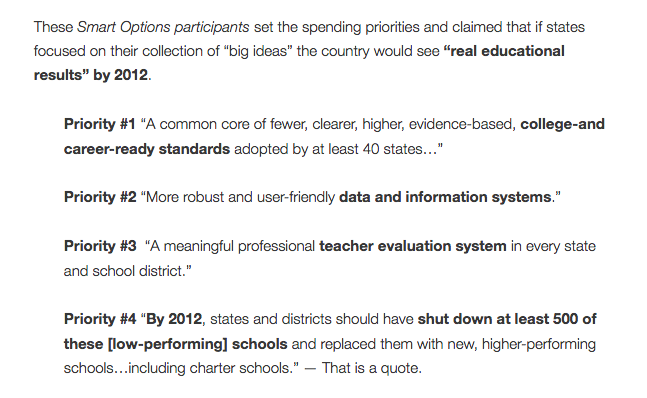 The leaders of this agenda labeled the process "disruptive innovation." They used us.
Instead of restoring education funding and hiring back laid off teachers, the majority of states spent money on adopting new standards and putting data collection infrastructure in place. Common Core was never about improving student achievement; it was about the common data points the system can collect. Common educational data makes possible the workforce data interoperability system. This system is designed to link student data from the Education Department (plus testing & online education data) to workforce data from the Labor Departments for development of the human capital to fill the directives (orders) placed by businesses and corporations.
And the Every Student Succeeds Act (ESSA) not only continued the federal mandate for the yearly standardized testing first dictated by No Child Left Behind (NCLB), it created a NEW Title IV grant with an attractive name, the Student Support and Academic Enrichment Grants (PLAW-114publ95 beginning p.168 of 392). Although this NEW federal education program has three stated purposes, technology definitely is a priority. (Here is a screen shot from Rise to the Challenge, a blog written in response to a 2015 comment about my views on ESSA.)
STOP the dismantling of public schools.
As one person wrote on Facebook:
"We let them divide us against each other. Because united they can't control us. Divided they keep control and can continue to pillage the country."
It's been established that it's all about control. So we need to take control.
ESSA has to go. It has been proven that school accountability from the federal level is a joke. It doesn't work. It makes no sense because the 90 Plus Percent obviously have no control —yet—over congress and their corrupt lawmaking process. Federal law continues to be an excuse for State "controllers" of the dismantling. Therefore, ESSA remains a barrier to diminished local control of education.
Take actions to disrupt and dismantle the policies, processes, and practices the One Percent put in place to control the schools that are attended by the 90 Plus Percent….It's not too late. It's time the country followed our teachers' lead.