Hello. Thanks for visiting! I'm author Victoria M. Young.
I am a "No Child Left Behind" parent. If you aren't one yourself, it's important to understand what that law did to schools. (A Conversation with Dr. Victoria M. Young – A Calling to Parents and Public on The War Report on Public Education with Host Dr James Miller Jr.)
As an involved, informed, and active parent of the No Child Left Behind era, I witnessed one of the biggest farces in public education EVER! I saw with my own eyes the damage my schools suffered at the hands of standardization and privatization.
No Child Left Behind was a weapon, not a reform.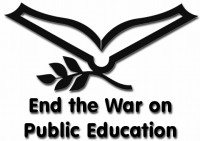 Public schools have literally been under attack for decades. But not being a professional educator, I needed to be sure it wasn't just me, reacting as a parent and a person that cared about the children I had volunteered to help. So I listened, learned, researched, and learned more.
Seeing children being "under-served" pushed me to look for a better way to provide quality education to all children. I went looking for real reforms.
What I found was the fact that real reforms were being ignored. Instead, the country had adopted unproven Market-Based "reforms" focused on test-score "outcomes." Politics—corrupted by money and power—ruled the day and set the rules.
My research left me frustrated. With stacks of statistics and proven solutions, a day came in 2005 when I was ready to quit and throw it all away. Instead, I put aside my career as a veterinarian (for a few years), took that mass of collected knowledge, and organized it into a manuscript.
It started out as Just a Parent and became Education's Missing Ingredient: What Parents Can Tell Educators. I became a published author.
But my story did not end, nor did my research. And The Crucial Voice of the People,Past and Present, my second edition of Education's Missing Ingredient, is one reason I'm still in the education reform war today.
Everything I wrote back then, sadly, still applies to our circumstances today.
And I continue to hear ordinary citizens, with commonsense and the human potential to do the right thing, speak what we know to be truths. Their voices need to be listened to and their wisdom acted upon.
Parents have been left out. Teachers have been pushed aside. And politics has overshadowed the crucial voice of the people.
So, that is what I'm all about — helping right the wrongs inflicted upon the public education system IN THE NAME OF REFORM.
I look forward to the day I can stop fighting against the dismantling of pubic schools and start fighting for that almost long-lost vision of a quality revolution in American education. The vision came from the Kennedy era and JFK's pick to head the Office of Education.
I hope you'll check out my books. And know this, I'm an e-mail away if there is anything I can help with. Just ask.
In a nutshell, citizen-driven school improvements need to direct and maintain control of the necessary revolution in American education.

What I believe — I know — is that we have the answers to the problems we have created. And remember…from the classroom to Congress, help is needed on every front.
If I can be of assistance in any way, (I love questions) please contact me at [email protected]
The Crucial Voice is ours.
Education's Missing Ingredient is you.
Thank you for visiting my site. You can also find me on…
My Fears and Beliefs        This is My Story         Letter From a Teacher    
P.S. About my activism, here is one more "About Me" from the Save Our Schools March conference (click on it to read).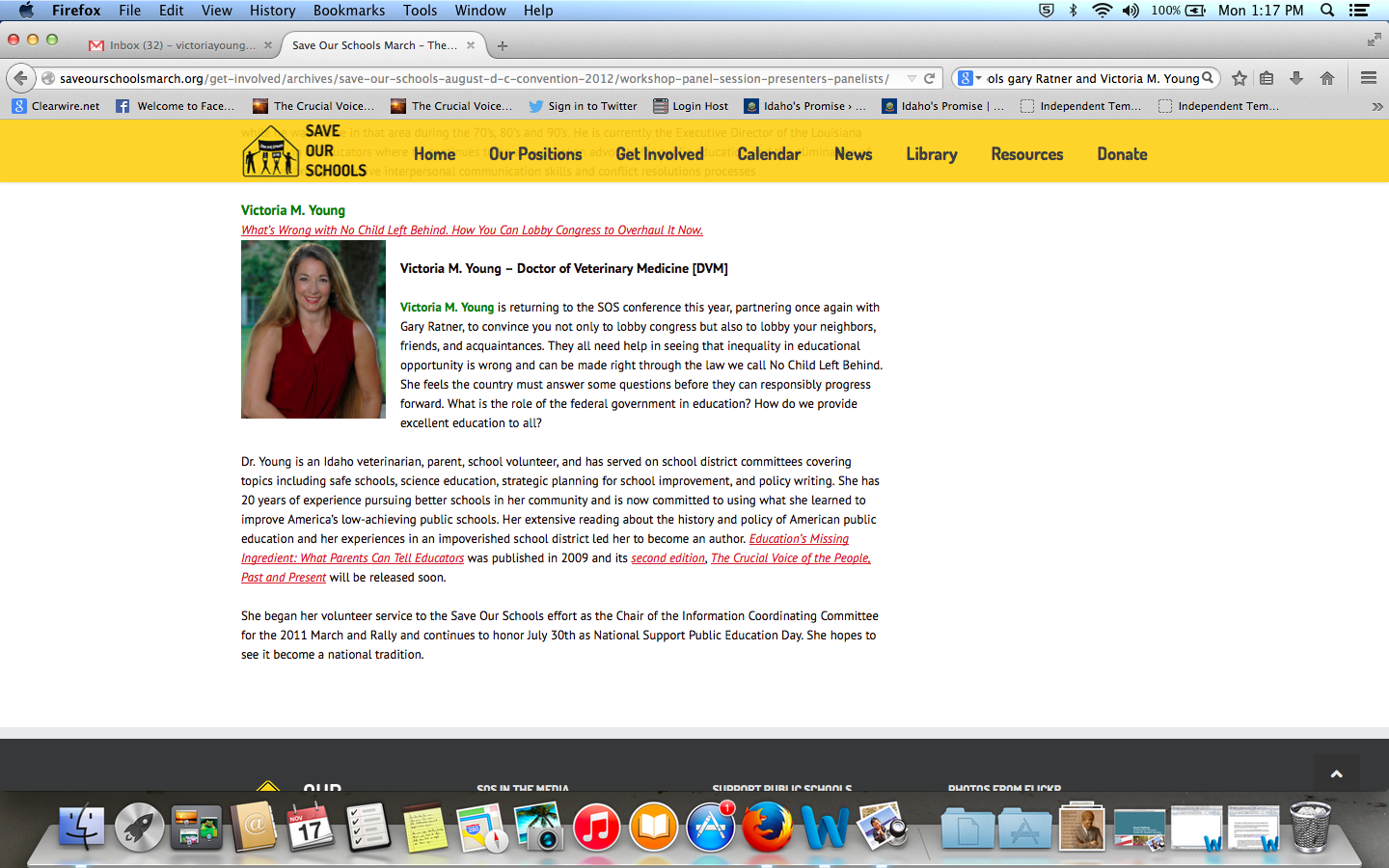 About My Books