Me? Victoria M. Young is my name and I AM just A PARENT. That was my rank in the education system.
In life, I'm a veterinarian and an incidental writer. I set out to right some wrongs!
Being an incidental writer means my passion for improving public education is so strong it drove me into becoming a traditionally published author in the field of education.
In this radio interview, you can learn more about me and my writing. I'll warn you; I'm a giggler. I giggle when I'm nervous and I laugh at times when the situation seems so hopeless I'd cry if I didn't laugh….We are certainly living in desperate times.
And for decades now I've been saying "it's time for the revolution." But what I didn't know when I started down the road to becoming an education author is that the education revolution had already begun…without us.
Parents have been left out. Teachers have been pushed aside. And politics has overshadowed the crucial voice of the people.
So, that is what I'm all about —righting this wrong.
I'm still fighting for the kids I got to know in my schools. There are many more like them out "there." Many of them are the millennials that Baby Boomers are so critical of — they are the generation left behind by education and the Great Recession. They are the Lost Generation.
But all is not lost. What began as the standards, assessment, accountability, technology movement can be made into the necessary revolution in American education — a quality revolution.
And as of right now, I will continue to fight for that almost long-lost vision of a quality revolution. The vision was not mine originally. It came from the Kennedy era and JFK's pick for heading the Office of Education.
I hope you'll check out my books. And know this, I'm an e-mail away if there is anything I can help with. Just ask.
In a nutshell, citizen-driven school improvements need to direct and maintain control of the education revolution.

What I believe — I know — is that we have the answers to the problems we have created.
In the weeks and months to come, I will be working to organize this website to help you find what you need to know. So keep checking the topic in education page for new updates. And remember…from the classroom to Congress, help is needed on every front.
If I can be of assistance in any other way, (I love questions) please contact me at victoriamyoung1@gmail.com
The Crucial Voice is ours.
Education's Missing Ingredient is you.
Thank you for visiting my site. You can also find me on…
My Fears and Beliefs        This is My Story         Letter From a Teacher    
P.S. About my activism, here is one more "About Me" from the Save Our Schools March conference (click on it to read).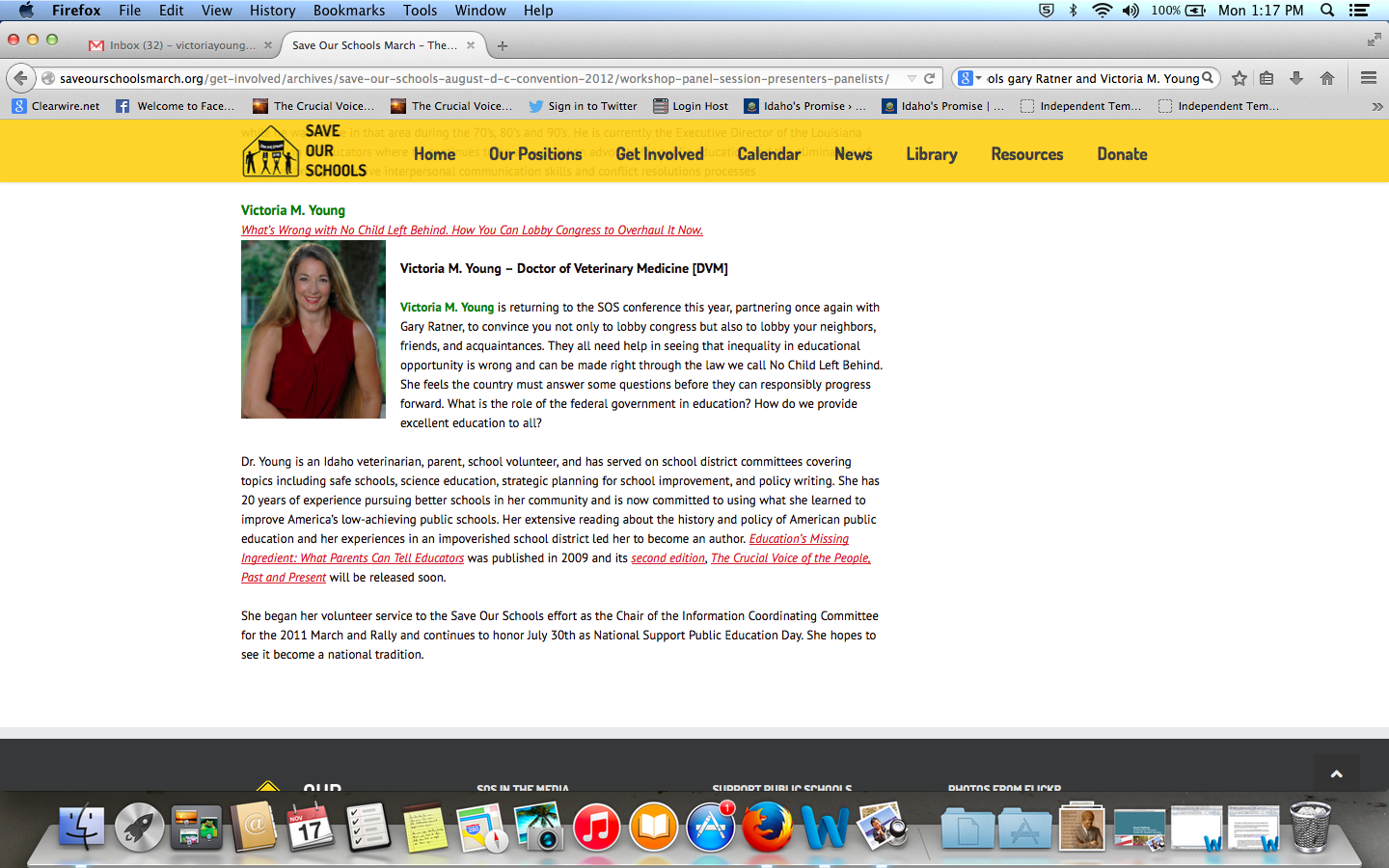 About My Books