The crucial voice of the local people has been the missing ingredient in school improvement efforts of —at least— the last three decades.

It was in fact Fake News that the whole education system was broken and needed transforming. What we needed to do was reform some schools and keep all our schools on a continuous improvement process. To improve, we need to listen to the people who have a vested interest in their local schools, not a monetary interest in "disruptive innovation."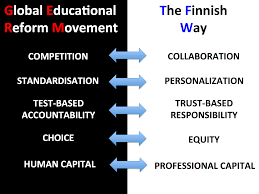 True reform, real reform — call it what you will, but understand what it is and is not. But as the education reform war stands today, we must first understand how the politically motivated created the Fake Reforms. If we don't, we are doomed to continue to be fooled.
We know that parents and teachers working together, supported by their community and other resources, is what really makes a difference in children's education and lives. Yet, education reform has been allowed to become a convoluted political mess. The People have been duped because the bad guys have out-moneyed the good people of this nation.
We must:
STOP allowing our education laws to be used to profit the education industry,

START putting our money to work for us through school improvement laws that embody the principles that will MAKE ALL OUR SCHOOLS EXCELLENT community-based schools, and

DEMAND our representatives LISTEN and WORK WITH US to ensure local responsibility, state accountability, and federal supports to meet the needs of the students.

The Only Political Influence More Powerful than Money is We the People. But make no mistake, money matters. How our tax dollars are spent matters. And everything I have written in my book and on this website about No Child Left Behind also applies to the Every Student Succeeds Act (ESSA).
Think, and trust your own common sense!

Getting involved in the political quagmire created by false reformers isn't inviting. It isn't glamorous, but it is necessary.
And it's important to understand what the problem is with our laws.
Short answer: Because laws cement in place principles that guide school resources, the school reform philosophy behind laws like No Child Left Behind, and now the Every Student Succeeds Act(ESSA), need to be based on effective principles that work to improve schools.
And for every dollar pocketed by the profit-driven education industry for things that don't work, there is one less dollar to provide resources for children and decent wages for the multitude of worker-bees actually in the schools doing the real work of educating children.
Even shorter answer, where laws direct us to go, so goes the money. Are the laws working towards what parents desire? And what teachers need? And what about meeting the students needs?
No Child Left Behind, and now its revision called the Every Student Succeeds Act (ESSA), has teachers and parents pushing children to make standards, testing, and accountability systems "work." Here's why those false education reforms have NOT worked:
Setting standards continues to be the laws' first step. This means the money is spent on rewriting standards and not on the resources to have "kids ready to learn."
The whole pseudo-reform mantra revolves around test scores that don't correlate with a better education. Test scores do not define a great education nor does test-directed teaching focus resources on having "teachers ready to teach."
Accountability cannot reasonably be based on test scores (outcome-based) without first addressing the learning conditions ("materials to do the job") under which we are asking teachers to teach and students to learn.
TO MAKE PROGRESS IN THE U.S. with true education reform, the country needs all of us to do what we can when we can.
"Young powerfully reminds us that we, America's citizens, are the ultimate source of political power and public policy in our democracy.  We, the people, need to learn about what 'reform' policies have been imposed, what's wrong with them, and how they need to be changed." Gary Ratner, Director of Citizens for Effective Schools
Embrace Solutions! Imagine,…What If...