Abstract
---
Drawing from the existing body of data and research on the community education concept, effective schools, and standards-based reforms, this essay examines educational achievement in the United States corresponding to and resulting from reform movements and political actions. The 1965 Elementary and Secondary Education Act (ESEA) is reviewed in light of its contributions to educational equity and the key changes to that law are discussed as federal political levers for the eventual adoption of the Common Core National Standards by most of the nation. Definitive statistical proof is provided that refutes the theory that setting higher, more rigorous, standards increases student achievement. Based on the National Science Resource Center Theory of Action, the effective community education process is assessed for its value in replacing standards-based education as the cornerstone of U.S. education reform.
Keywords: effective community education process, standards-based education
Introduction
---
Without knowledge of the history of American education, the country is at risk of repeating past failures and not recognizing or comprehending the political forces chipping away at its educational foundation. Worse yet, the country risks the loss of guiding principles upon which it once stood. Historical knowledge is essential to assessing and assuring that American values remain the cornerstone of future education reforms.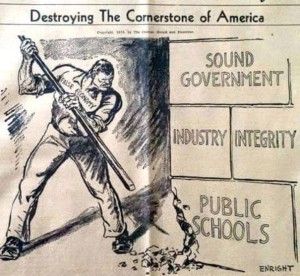 Citation
---
Young, V. M. The Journal Of Educational Foundations. Vol.31, No.3 & 4, Fall/Winter 2018, pp. 74-99. Copyright 2018 by Caddo Gap Press