The country was led to believe there was a need for more testing for accountability purposes. Truth — we didn't need more testing. We need the system to respond to already identified needs.
The chart below is a combination of accountability measures we used to do with a few additional suggestions that are being done in places scattered across the country and around the world.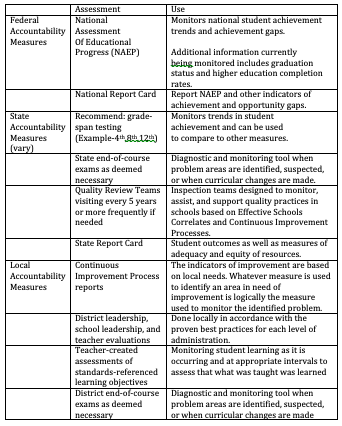 Does the country really think we need federally mandate yearly standardized tests on top of this?
Missing from the discussion of indicators of educational quality are multiple topics that were covered in Education Counts : An Indicator System to Monitor the Nation's Educational Health including: opportunity-to-learn indicators, principles upon which an indicator system should be based, obtaining clarity in a national report card and presidential report to Congress and the nation, and reporting from the federal government on the progress they are making towards the goals set for of the U.S. Department of Education.
For further details on any of these accountability recommendations, please read the following blogs:
Other sources of information are too numerous to list. I recommend searching the words Indicators, Education Indicators, Leading Indicators in Education, Indicator Guides, Comparative Indicators, and The Condition of Education 2014 (tell me if that one is easily readable and therefore useful to the public and policymakers).
We have never been short of better ideas. What has been missing is research guided, targeted investment in the best ideas.
To make an informed decision on this matter of standards, testing, and accountability, please review the basics of standards and standardized tests.