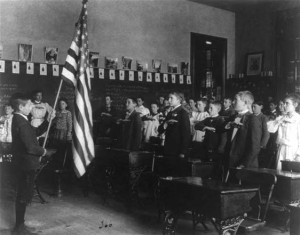 The older version of indoctrination in the U.S. had a common purpose — Americanization.
As James A. Michener explains in This Noble Land, after discussing how a school day always began with the Pledge of Allegiance and patriotic song, "In those days the indoctrination of children began at age six and continued daily for the next twelve years. I have often thought back on that simpler time and concluded that it is better for a child to have some strong moral and social beliefs rather than none at all, even though his indoctrination may have been chauvinistic, muddled or even erroneous. Later he can correct error, but if he has allegiance to nothing he has nothing to work on in his later reeducation."
Maybe my humor is warped but I find his muse amusing.
I find no humor in the indoctrination that we are talking about today that holds a very different meaning. To indoctrinate is "to teach" which in the case of Americanization meant to teach foreigners English, U.S. history, government, and culture. And one reason (need, really) for compulsory free public schools was the sudden, large influx of immigrants.
Today, with Common Core and the control of curriculum being ambushed by it, but not fully and publicly being questioned nationally, indoctrination of a political point of view is what we are obligated to protect children against.
We understand the power of "knowledge"; question is, will we allow vulnerability of our public education system to be created?