"Smarter government, "invest in the best ideas," "partners for progress."
"It's about listening to what our scientists have to say, even when it's inconvenient—especially when it's inconvenient. Because the highest purpose of science is the search for knowledge, truth and a greater understanding of the world around us. That will be my goal as President of the United States." December, 2008.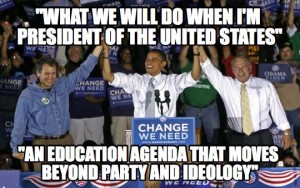 Hear yourself, Mr. President, and listen to a variety of perspectives as you said you would. "The time has come for a president … who will listen to you and learn from you even when we disagree…. I will be that president for America." — Obama, after winning the Iowa Caucus
What makes "smarter government"?
Hear this: Some of the best ideas come from our own past by way of new and sometimes unlikely messengers. It is time for reflection on your part. What do you see as the proper role of the federal government in education?
"The control and operation of education in America must remain the responsibility of State and local governments and private institutions. This tradition assures our educational system of the freedom, the diversity and the vitality necessary to serve our free society fully.

Let us put to rest the unfounded fears that 'Federal money means Federal control.' From The Northwest Ordinance of 1787, originally conceived by Thomas Jefferson, through the Morrill Act of 1862, establishing the still-important and still-independent Land-Grant College system, to the National Defense Education Act of 1958, the Congress has repeatedly recognized its responsibility to strengthen our educational system without weakening local responsibility." JFK 1965
This was about partnering on way more than early childhood education.
In far too many places, local responsibility has been shirked. We need a return to the "proper Federal role of assistance and leadership."