We know there are problems. We know there are solutions. And we know that one size does not fit all. We know "Our problems are manmade; therefore, they can be solved by man." JFK
So improving education is simple (not easy) when you follow John F. Kennedy's guidelines:
Do an appraisal of the entire range of educational problems (which we have);
Apply a selective (not "competitive") application of Federal aid – aimed at strengthening, the independence of existing school systems AND aimed at meeting our most urgent identified education problems and objectives;
Use existing laws more effectively.
We know there are pockets of educationally-deprived children. We know we can do better – all of US.
Parents – President Reagan's Commission on Excellence in Education spoke to you.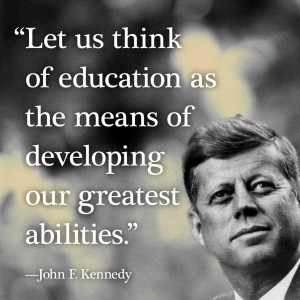 Students – "Because in each of us there is a private hope and dream which, fulfilled, can be translated into benefit for everyone and greater strength for our Nation," President Kennedy wanted you to be educated to the limits of your potential and understood that it would require smaller class sizes and adequate facilities.
Teachers – JFK felt "our immediate concern should be to afford [you] every possible opportunity to improve [your] professional skills and [your] command of the subjects [you] teach." He believed "teachers would profit from a full year of full-time study in their subject-matter fields." And he proposed the government fund that effort targeted at the fields of study identified through "the appraisal."
Communities – You want results but you won't get them by sitting back and telling others what to do. What will you do? Do you understand your role?
Leaders – Lead in the right direction, the way defined by the people, or get out of the way!
We must set the right goals and "Let us keep our eye steadily on the whole system." Thomas Jefferson
It is that simple — for starters. It isn't the easiest road to travel, but, it is simple to get started because it a road that has been traveled before.