The whole point of standards, testing, school choice, school closures, and mass firings of school personnel was to turn around schools identified as failing to serve children — MOST of whom are disadvantaged by poverty. Right? These were the chosen school transformation practices of No Child Left Behind and Race to the Top.
Common Core just happens to be the planner's choice for the next generation standards upon which this scheme will go forward in state and federal laws. But should it?
Like the song says "Stop… Everybody look what's going down."
These strategies are not reforms. They didn't improve schools. They didn't improve opportunities across the board for children. They didn't provide kids with an even start. They didn't come close to giving them all a fair shot. They didn't give children hope for a better life. If they had, we shouldn't see rising suicide rates for black children.
The question is; what will we do? Be realistic?
Realistically, will a quality education lift all children out of poverty? No. But, it will provide that opportunity for many more. Can education make life better for all? Yes, it can. The correlation has been well documented. Education is a common good.
"Education is about more than just better jobs and bigger paychecks, important though they are in making families and individuals more financially stable. More education is also linked to better physical and mental health, longer lives, fewer crimes, less incarceration, more voting, greater tolerance, and brighter prospects for the next generation."
So is school reform the silver bullet for all the misfortunes poverty can bestow on our American pursuit of happiness? No. But we have to do it anyway. And in the process, we can adopt policies and practices that support families and their children — but only if we make the choice to do so. Enters, The Elephant in the School Failure Debate by Joan McRobbie.
"Common sense tells us that improving child health and nutrition, making it so the family doesn't have to move frequently to find affordable rent, and reducing family stress make it easier for children to learn."
Don't other people find it very disturbing that The Land of Opportunity doesn't have a better social safety-net for children? We won't even make equality in educational opportunity a national priority?
"The United States stands out as the country with the highest poverty rate and one of the lowest levels of social expenditure —16.2 percent of GDP, well below the vast majority of peer countries, which average 21.3 percent (unweighted)."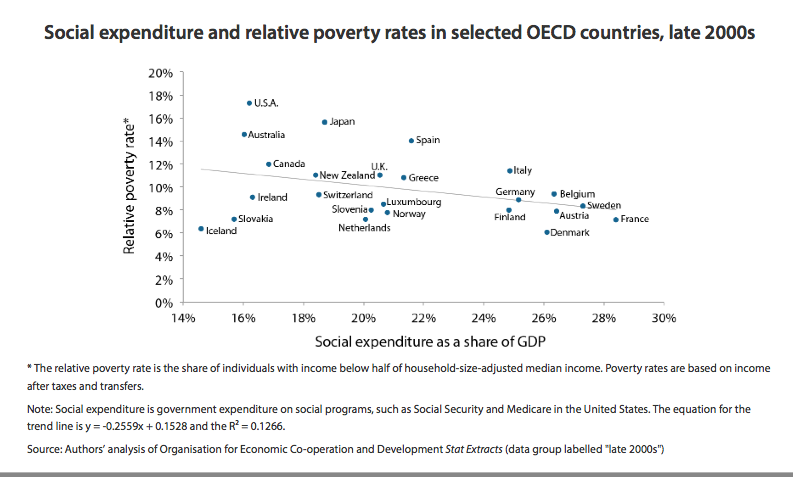 But I don't see Mexico included in this graph and I know their poverty rate is higher than ours, so we're alright? No, we are not! And enters the argument that money isn't everything. There is some truth to that.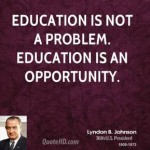 Money isn't invested wisely in education reform unless we understand the concept of community support for disadvantaged children and the schools they attend. That was the basis of the Elementary and Secondary Education Act (ESEA) that was written through the efforts of many including President Johnson (D) and his Secretary of Health, Education, and Welfare, John W. Gardner (R) —the founder of Common Cause.
McRobbie gets it.
"Heroic efforts by excellent educators can only make a dent. Their efforts are swamped by concentrated poverty; by the daunting numbers of low-income students and the magnitude of the needs those kids have, through no fault of their own. And each year, more children with similar needs continue to pour in.
This isn't a school problem. It's a societal problem imposed on schools,…"
I'm not saying money is the total answer; it isn't. But wise investment is. Strong communities and the social safety net they build for children is the foundation for excellent schools.
The chief architect of the 1965 ESEA, Frank (Francis) Keppel, saw federal appropriations of money for education like this; the way forward should not be seen as "aid" but as "federal support for special purposes . . . an investment in education . . . investment in people and therefore in the nation."
Right now, the U.S. Senate version of the reauthorization of ESEA —up for a full vote of the Senate as S.1177, called "Every Child Achieves"— is set to invest heavily in standards, testing, and charter school start-ups. We know these things did not reliably, consistently, or in any statistically significant way improve the lives or education of children of poverty.
Is this the investment we want to make? Speak up. If the law isn't about helping to turn around the schools that need our help by providing a better social safety-net for our youngest citizens, we have to stop what we are doing. We can simply say "Vote No" AND go back to the drawing board – NOW!
We need to decide.
Update: The bill came out of committee and in 10 days flat was approved and signed into law during the Thanksgiving/Christmas holiday (Dec. 2015, now titled Every Student Succeeds Act). Parents, you didn't have a chance!….We should all be mad as hell!…The alternative is never considered. Why not?