Shouldn't we be accountable for providing quality learning opportunities to all children? Shouldn't we be asking for accountability where it matters most? Aren't we – the public – responsible for doing that?
The National Science Teachers Association (NSTA) "believes that individuals are accountable first to those directly affected by their actions and second to all other interested parties. Thus science teachers are accountable primarily to students and parents." (SPECIAL NOTE: This author holds the same basic position as the NSTA but believes we should be using "standards-referenced" NOT "standards-based" as a guiding principle. See Standards & Their Use for clarity.)
With the promise to finally "fix" No Child Left Behind, we really need to think this through.
How do we know students are learning what they need to know and be able to do?
Tests, assessments, measures of student achievement and performance…we measure students in multiple ways yet we should have figured out by now that higher scores on standardized tests do not equate to the quality of learning. That's where the public needs to understand that it is "systemic" accountability we want and there are many layers!
In a perfect system, the teacher is a highly educated and trained individual, the teaching environment is healthy, safe, and conductive to learning, the objectives are clear, the teacher has all the materials to do the job, and the students are prepared to learn.
Assessing the student becomes simple. There are student-learning objectives that the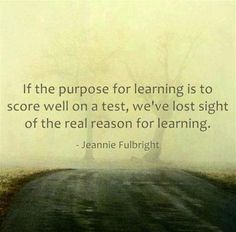 teacher evaluates the student against – called "formative" testing. Teachers use the information to assess what the student did or did not learn and adjust instruction to meet the needs of the student – becoming "accountable" to the student – being responsible for doing their job.
Other measures depend on the grade level and intended use. There are end-of-course exams that many of us probably recall as being "final" exams – called "summative" assessments. And there are other standardized achievement tests that can be used to assess trends.
So, at the student level isn't it enough to have…
♦Teacher-created formative assessments of standards-aligned student learning objectives,

♦End-of-course exams, subject specific tests, or school or district summative assessments as necessary to address any problem areas identified, and

♦Standardized achievement tests given at transition points (grade-span testing, 4th, 8th, 12th grades) as an oversight?
At the student level, if parents are comfortable with this amount of assessment of their child and have confidence in their teacher's ability to judge their student, is it fair or even reasonable for the public to demand more testing of students? The views of students and parents should matter.