In attempting to fix No Child Left Behind, Congress is struggling to make it right. Instead of thinking they can fix this mess, they need to approach the law as the rewriting of the Elementary and Secondary Education Act (ESEA) because that's what it should be. Back to basics.
Here's some advice —DON'T make it A "clear law."…. O.K., this is where you are supposed to say…. wait, …what? Wouldn't we want a law to be clear? That depends on how you define "clear." Thus the need for lots of quotation marks in education reform writing. We are not on the same page!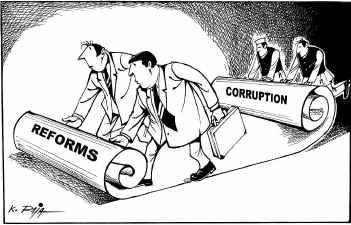 As explained in Fixing Broken Government, when something goes terribly wrong in one of our government agencies,…
"The reflexive reaction is to demand detailed laws and rules to make sure things don't go wrong again…. shackling public choices with ironclad rules… [while]…dictating correctness in advance supplants the one factor that is indispensable to all successful endeavors—human responsibility."
With that in mind, the right thing to do is to expect the humans at each level of the education system to be responsible for doing their jobs in serving the educational needs of children.
Since our laws exist to serve and protect citizens —in this case our youngest citizens' rights to a quality public education— it is not right for the law to better serve the education-industrial complex.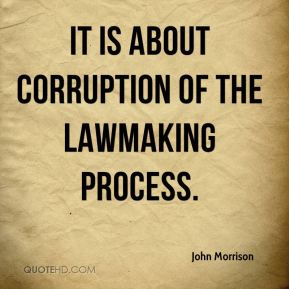 For citizens, the weak link in the federal lawmaking chain of events is when industry hires lobbyists who collaborate with legislative staff and a few lawmakers to write laws benefiting the industry, not us. We've been left out. The legislative process has been corrupted and bad laws like No Child Left Behind (NCLB) are the result.
Some say we see "unintended consequences"; others see "loopholes" in education law as a move towards full privatization of public schools.
Loopholes have repeatedly burned the American public. Right? Here's why. It's a phenomenon created by the fact that…
"the more exact and detailed a rule, the more likely it is to open up loopholes…[because]…most regulatory language is inherently ambiguous. Dense rulebooks do not avoid disputes—they just divert the dispute to the parsing of legal words instead of arguing over what's right."
With ESEA, since we are out to "make it right," as so many officials have said — we have to replace detailed rules with principles that guide personal accountability.
"Legal principles have the supreme virtue of activating individual responsibility. Law is still supreme. … Law should generally be an open framework, mainly principles and goals, leaving room for responsible people to make decisions and be held accountable for results. Law based on principles leaves room for the decision-maker always to act on this question: What's the right thing to do here?"
This explains the craziness going on in schools right now over testing. We aren't standing on principles; we are complying with laws and rules — without thinking.
All over the Internet, you'll find stories about kids crying over tests. I haven't written about it because, although I tend to believe the parents telling the stories, I didn't personally know it to be fact. Now I do. And I could not have imagined an adult pushing a child emotionally— to the point of crying —over logging into a test when the parents had clearly refused the testing and the adult administering the test knew it.
It's not acceptable.
Education law has adults seeing children as dollar signs instead of human beings. The fear of losing funding for non-compliance with the No Child Left Behind law has made school personnel act without asking, what's the right thing to do here?
Think about that. NCLB was due to be rewritten in 2007. The public has acknowledged that NCLB was not helpful in their own schools. But eight years later, adults are still complying because it is the educational law of the land.
If ever there was no responsibility, no accountability for Congress being negligent in their duty, it's with this law.
The country needs to see Congress make it right. No more excuses. Set principles we can understand and stand upon.
"With principles, a citizen can stand his ground to an unreasonable demand and have a good chance of being supported up the chain of authority."
The only reason I can think of for not setting the necessary goals and proper guiding principles, in this ESEA re-authorization, is if the law really isn't for the citizens.