Here's a little story about how reforms should honor our principles.
In a conversation with a young nurse the other day, she proceeded to tell me what she thought about public schools. She had been a school nurse while her children were in a regular public school and felt it gave her a different perspective. She then went on to volunteer the information that her children were now in the "charter system." O.K., there's a hook I couldn't resist.
The conversation ran along these lines;
Me: "What did you see as the problem?"
Her: "There is so much waste." (She didn't elaborate and I didn't press it.)
Me: "You see a big difference between the charter school and the regular public?"
Her: "Oh, yes. The kids are so much more respectful at the charter school. The behavior was terrible in the public school and the teachers had this idea that there was nothing they could do about it. And the parents were just as bad as their kids!"
…and the conversation drifted to sports and more bad behaviors. But her points were made; they have been made before.
People want public schools to be places of civility. Respect is a basic principle of real education reform.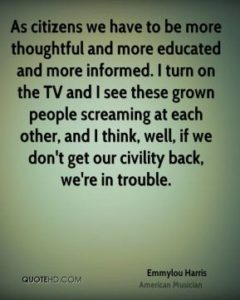 People want OUR government institutions to be as thrifty with our tax dollars as we working-class people must be with our own.
Reforms should honor our principles.
The policies and practices of education reform must be based on the fundamental truths and doctrines we believe in. So my advise is for us to consider that civility and thriftiness are good starting points for lawmakers as well as schools.